Eintracht Frankfurt v Freiburg Brawl Triggers Outrage During Bundesliga Match
An Eintracht Frankfurt v Freiburg brawl has left many fans with a sour taste in their mouths. Both teams jumped into a brawl when Freiburg manager, Christian Streich, was knocked over by Eintracht captain David Abraham. During the melee, players pushed and shoved for five minutes until officials managed to separate them. This year's soccer competitions are really entertaining for drama fans, but soccer spectators are less than impressed.
Of course, most professional sports players run a little hot, so the spontaneous WWE match wasn't that unexpected. For whatever reason, the Eintracht Frankfurt manager was close to the field lines, but he wasn't to blame. Abraham earned a red card after a video review of the incident on the touchline. In addition, Freiburg's Vincenzo Grifo also earned a red card for grabbing Abraham during the brawl.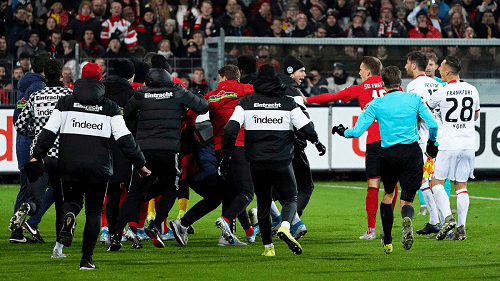 Eintracht Frankfurt v Freiburg Brawl Cause
Thanks to the video review, everyone could see the reason for the Eintracht Frankfurt v Freiburg brawl. Abraham was running to collect the ball after it went out of play. However, after spotting the manager, he decided not to avoid him and knocked Streich over. Afterwards, Streich told Sky TV that he couldn't get out of the way in time. He said that it was obvious that Abraham was "just emotional, that's all".
Frankfurt's sports director, Fredi Bobic, said that Abraham "felt provoked" as he tried to collect the ball. Bobic stated that "there will be consequences" for those involved in the fight. Eventually, Freiburg won 1-0 after Nils Peterson scored the only goal of the match. Freiburg is now levelled on points with RB Leipzig and Bayern Munich. Still, they remain behind Borussia Monchengladbach, who sit at #1.
Discipline in Sports
While we can believe that the players were all very determine to win, the Eintracht Frankfurt v Freiburg brawl is fairly embarrassing for the Bundesliga. In fact, it should have been stopped sooner by officials. While we're not refereeing experts, it does seem a little obvious. Any penalties will likely be moderate, but we'll be keeping tabs.
So, keep visiting BestAUBettingSites.com for the latest soccer news!