England v Australia Final Score & Recap at RWC Quarter-Finals
As the first quarter-final fixture, England v Australia was fairly entertaining to watch, even though the Wallabies lost. With a full-time score of 40-16, England was the first to head to the semi-finals. Happily, the Australian side bowed out gracefully with a few tears for the missed opportunity. We will admit that England played well, even if we feel a little betrayed.
According to the experts, Johnny May's two tries early in the match were the catalyst for England's aggressive gameplay. While the Wallabies did their best, the Roses were clearly motivated and our boys were going to have a hard time. After all, it's the first time in 12 years that England will make it to the semi-finals. Unfortunately, they'll be playing New Zealand, and we all know how that will end. New Zealand won't take any prisoners and will likely steamroll over anyone in their path.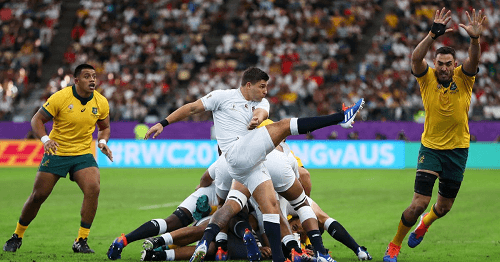 England v Australia Highlights
By half-time, the Wallabies managed to close the score gap to 17-9, but the second half was England's "best performance" at a World Cup. It's a lot better than being sent home during the group stages in 2015. Australia tried to throw their best at the English, but the set up just wasn't there. England managed a record 181 tackles throughout the match.
Sam Underhill managed 20 of those, with eight other Roses getting into the double figures. As for the Wallabies, they only managed an average of nine tackles a piece for a total of 78. When combined with the full-time stats, it's obvious that the Wallabies lost a lot of confidence early on. Any patriotic fans will likely feel ashamed, and we don't blame them after England v Australia.
Odds for Semi-Finals
Now that our team is heading home, we have to face the facts. New Zealand or South Africa could take the title, and Wales will probably trip up again. At least we can be comforted by the thought of Wales going home in shame. In any case, we'll have to change our bets and take advantage of the new odds below.
| | |
| --- | --- |
| Team | Odds |
| New Zealand | 1.83 |
| South Africa | 4.33 |
| England | 5.5 |
| Wales | 11.00 |
So, keep visiting BestAUBettingSites.com for more rugby betting news!