EveryMatrix Releases Report on Rapid Growth of eSports Gambling
In the uncertainty of this pandemic, many people are turning to eSports gambling, according to EveryMatrix. Through a new report, the statistics show that betting competitive video gaming has increased 40x since this time last year.
The report confirms that 85% of the total eSports betting volume is for classic games like League of Legends, CS: GO, an DotA 2. Turnovers are much higher on bets for these games and some new contenders.
Other leading games include FIFA 2019 and NBA 2K, cornering 80% of the market. Notably, these games are realistic versions of soccer and basketball that have prominent teams involved. The gameplay is recognisable for bettors, and so the games were in a "prime position for growth". Since they have established eSports markets, there's a chance that these games will see further growth in future.
EveryMatrix eSports Gambling Stats
In the report, EveryMatrix compared the average turnovers for eSports and traditional sports. According to the stats, eSports has grown from €159 to €473, while sports dropped from €930 to €733. Gross gaming revenues per player are also up for esports from €13 to €31 and sports dropped from €99 to €53. But we have to note that this changes every week.
Here's the critical data from the report we found.
Key Games for Betting
Further, "key drivers" for the growth of the market are broken up into game types:
Sports games: NBA 2K and FIFA.
First-person shooter: CS: GO and Rainbow Six.
MOBAs: DotA 2 and League of Legends.
Real-time Strategy games: StarCraft 2 and World of Warcraft.
Third-person shooter: Fortnite and Player Unknown's Battlegrounds.
Other titles: Mortal Kombat and Formula 1.
What's important here is that all of these games have live-streamed tournaments.
EveryMatrix Betting Types
Added to the games, EveryMatrix reveals that the most popular types of betting are:
Actual money fixed-odds betting.
Private, social betting between individuals.
Betting on skins and items.
And the most popular markets are:
Overall winners of events or parts of competitions like maps, quarters, and halves.
Amounts of scores like points, kills, and goals.
Handicap betting on the winning margin of a team.
And, of course, correct scores.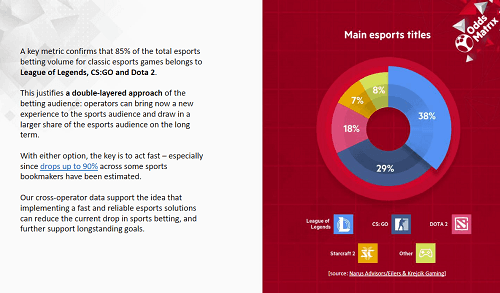 Projections of Growth
Based on their statistics, EveryMatrix believes that the industry will continue to grow, even after the natural easing of the global pandemic. So, it recommends that sportsbooks should stop "lagging" behind and start investing in the medium.
What this Means for the Gambling Industry
Like EveryMatrix, we believe that a big boost for traditional sportsbooks will come from eSports. Luckily, Australian bookmakers we feature are already taking popular bets for every tournament running globally and on our shores. So, check them out.
Latest News
Keep visiting our site for the latest news and updates on stories like this.
Spanish Virtual GP Highlights: George Russell Takes the Win
Midnite Joins Esports Integrity Commission as Anti-Corruption Supporter
Alex Albon wins First Virtual GP Title by Overtaking Charles Leclerc
Valorant Beta Drops Cause Twitch Ban on 24/7 Replay Streams
Pro Gaming Industry Sets Viewership Records During Global Pandemic