Final Results for the 2019 Melbourne Cup – Vow and Declare Takes the Cup
Against all odds, Vow and Declare took the Melbourne Cup with odds of $11. This racehorse stunned bettors by coming in first with jockey Craig Williams. This is Williams' first ever cup win and the first-place winner was stunned. In a stunning race, Vow and Declare jumped ahead of favourites Cross Counter and Mer De Glace. However, there was a little drama for other places when the race ended.
During the race, Il Paradiso faced interference from Master of Reality in the first 100m. Following a protest lodged by Il Paradiso, Master of Reality finished out of placings and the protester took third place. Stewards are confident in their investigation findings after reviewing the race. Of course, there was no disputing Vow and Declare as the first-place winner.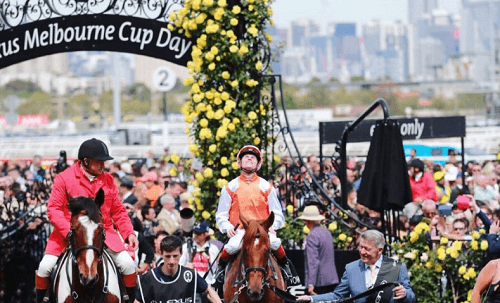 Vow and Declare Takes it for Australia
Despite most of the top predictions favouring international horses, an Australian thoroughbred clinched the Melbourne Cup. Vow and Declare weighs just 52kg and started on barrier 21, one of the worst for racers. However, that didn't seem to dampen Williams' abilities to help his horse to victory. After the Caulfield Cup, experts were predicting a high finish, but not a win. It's nice to see Aussies surprising the world once in a while.
Meanwhile, Cross Counter failed to crack the top six, probably losing a few punters the full set. Constantinople was also now where to be found. Another surprising horse was Prince of Arran, who wasn't even part of the top ten predictions. All in all, the Melbourne Cup appears to have kept its reputation of being entertaining and dramatic.
Final Results for the Melbourne Cup
In a final dramatic twist, Michael Walker, jockey for Prince of Arran, has been fined for "excessive whip use" and banned for seven meetings. As such, Walker will need to pay $10 000. While Frankie Dettori, jockey of Master of Reality, has been banned for nine meetings after his interference. We wish we'd taken odds on this, but who could have known?
1st: 23 – Vow and Declare (Danny O'Brien) Williams (21)52kg
2nd:12 – Prince of Arran (Charlie Fellowes)  Walker (8) 54kg
3rd: 20 – Il Paradiso (Aidan O'Brien)  Lordan (17)52.5kg
4th: 3 – Master of Reality (Joseph O'Brien)  Dettori(1) 55.5kg
5th: 18 – Surprise Baby(Paul Presuker) Childs (20) 53.5kg
6th: 2 – Mer De Glace (Hishashi Shimizu)  Lane (2) 56kg
7th: 11 –Finche (Chris Waller)  McEvoy (4) 54kg
8th:1 – Cross Counter (Charlie Appleby)  Buick (5) 57.5kg
9th: 21 – Steel Prince(Anthony Freedman)  Prebble (16) 52.5kg
10th: 15 – Magic Wand(Aidan O'Brien)  Moore (24) 53.5kg
11th: 10 –Twilight Payment (Joseph O'Brien)  Bowman (19) 55kg
If you haven't had enough of racing news, there's still plenty of action for 2019. So, keep visiting BestAUBettingSites.com for updates!