Best Horse Racing Bets
Finding the best bets for horse racing is pretty easy. After all, we have some of the best online gambling sites to place race bets on some of the best events in the world. What makes horse racing so profitable is the fact that there are races nearly every week.
This means that bettors can gamble on any race easily, with a few bonus options to make it interesting. However, having so much to choose from can sometimes be overwhelming. Therefore we've put together a guide to break down the best bets for racing.
First, keep in mind that this is a general guide for the types of bets you can make. We have a full list of bets for horse racing listed on our main guide. Likewise, we want to explore the best ways to bet on the sport and how profitable they are. If you'd prefer to skip ahead and start betting, we've also listed our favourite racebooks below.
Best Online Racebooks to Bet With
Highly-Rated Ways to Place Racing Bets
While there are many wagers to make on horse racing, punters don't need to know absolutely everything. What is beneficial, though, is to know all the ways you could bet. These are fixed odds, pari-mutuel, and exchange betting. Each of these has its benefits, but also some drawbacks for regular betting. So, let's see what they have to offer.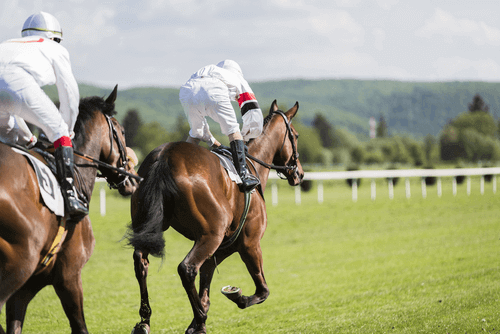 Fixed Odds Bets
Firstly, fixed odds are bets made with a bookmaker at agreed odds. Essentially, you'll make a selection and the sportsbook will give the odds for the wager. A popular bet here is which horse will win a race, known as a straight bet.
After making the selection, you'll pay a stake and wait for the results. If your horse wins, your payout will be combined with your odds multiplied by your stake. However, if your horse loses, the bookmaker will only pay back your stake.
With fixed odds betting, you can usually estimate your win at the time of placing a bet with exceptions. Sometimes, online bookmakers will have what is known as a starting price (SP).
This means that the odds you get are not final but will depend on the race. These will be updated on the website, so be sure to check beforehand.
Fixed odds are usually represented by decimal odds, but can also be shown as fractional or money lines. For our purposes, we'll use decimal odds in the example. These are the simplest to understand, because they factor in your bet. Say you've staked $10 on odds of 3.5 to win. If the bet is successful, you'll receive $35 ($25 plus the initial wager).
Pari-mutuel Racing Bets
Pari-mutuel, or tote, bets differ a lot from fixed odds. While you will make selections the same way, there are no odds and you won't bet against a bookmaker. Your stake will go to the pool for that race and the winnings will be divided between the bettors who made the right selection. While a percentage will go to the company involved. Therefore, winnings will be determined by three factors:
How much is staked
How much was won in total
Number of bettors who placed a winning bet
Exchange Bets
One of the newest additions to race bets is exchange betting. This form of bet is made against other punters, instead of the sportsbook. In basic terms, bettors will wager peer-to-peer where punters select the odds and stake for the bet. Another gambler will be matched with you and take the opposite bet. Certainly, one big advantage of this format is that you can choose to 'lay' a horse, meaning that they won't win. Something that is a lot easier to predict than a winner or group of places.
More about Horse Racing