Israel Folau was a Distraction from Australia's Rugby World Cup Campaign
Israel Folau, an Aussie rugby player now associated with homophobic comments, was a big distraction for Rugby Australia. According to Chief Executive Raelene Castle, his sacking dampened Australia's chances in the tournament. As a long-standing member of the national squad, Folau was expected to go all the way to Japan. Instead, he was dropped from the team after spreading hate speech on Instagram.
While Israel Folau offered apologies for his comments on social media, his appeal will only be reviewed in February. When he posted that "hell awaits" gay people and other "sinners", fans across the world were shocked. By using his religious views as a defence, he gained moderate support. However, Rugby Australia did not approve of his stance or his convictions. This was considered a "low-level breach" of their code of conduct.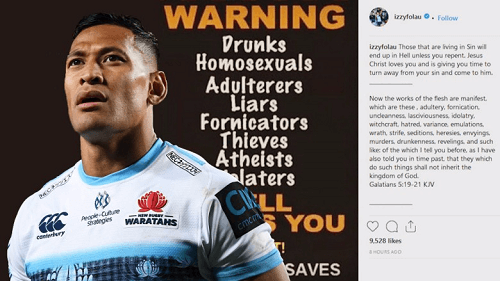 Next Steps for Israel Folau
Israel Folau is now claiming that he was unfairly dismissed and is seeking legal action. He is pursuing the case under the grounds that people can't be dismissed on religious views. As such, the Super Rugby star has lost out on an AUD 1 million, four-year deal. In publicised court documents, Folau's lawyers claim that he offered concessions to Rugby Australia.
Included in the concessions was an offer to pay a fine and serve a four-week suspension. He also wanted to go through mentoring sessions about practicing his faith publicly and articulate these views on social media. In the filing, Folau reportedly told a tribunal hearing to "consider his future". He claimed that 15 players had "offered support" and urged him to re-join the game. Moreover, he claimed that Raelene Castle had told him that the organisation wouldn't ask him to act in a way that "contradicted" his beliefs.
Court Submissions from Rugby Australia
In another court submission, Rugby Australia stated that Israel Folau admitted that his social media posts breached code of conduct rules. The high-profile player claimed that his dismissal over anti-gay comments was an "unreasonable restraint of trade". This stopped him from playing the sport and he is now looking for AUD10 million in lost sponsorships and marketing deals.
Presently, the case is due for mediation in December.  We doubt that he will get away with it.
Keep visiting BestAUBettingSites.com for more updates.