Japan v South Africa Final Score & Recap at RWC Quarter-Finals
Japan v South Africa ended in an expected way with a final score of 3-26, leaving Japan in the dust. A total score of 29 makes Japan v South Africa the lowest scoring match of the World Cup. Despite their first ever quarter-final appearance, the Brave Blossoms just couldn't keep up. While the South Africans struggled in the first half, they seem to have woken up after half-time.
Japans' success is nothing to sneeze at and we expect great things in 2023 from them. However, they'll have to watch the rest of the tournament as South Africa advances to face Wales next. A comfortable victory might be their last if experts are to be believed. So, where did Japan go wrong and can they learn from it?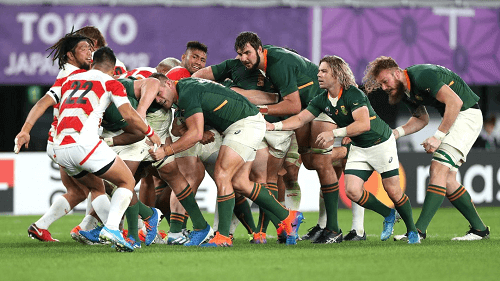 Japan v South Africa Highlights
Part of what made this match so exciting was the fact that it was the first time Japan had lost. They've successfully risen to world #6, and made history at Asia's first World Cup. After this match, they have qualified to go to France in 2023. Jamie Joseph has been credited with their amazing turnaround in addition to Rugby as a whole.
As the winners, South Africa are still expected to get far in the tournament. And yet their incessant fumbles are likely to cost them if they don't improve. Much of the match was dominated by rookie mistakes, and the Boks seemed half-asleep for the first-half. Reportedly, this was a strategy to slow down the Brave Blossoms, but we think it's an excuse for their poor gameplay.
Odds for Semi-Finals
South Africa is expected to go up against New Zealand in the Final of the Rugby World Cup. Their odds are looking good, but they won't win the cup. After all, New Zealand is trying much too hard to get their third consecutive win to allow the Boks a chance. Moreover, they're just a better team in general and will work better under pressure.
| | |
| --- | --- |
| Team | Odds |
| New Zealand | 1.83 |
| South Africa | 4.33 |
| England | 5.5 |
| Wales | 11.00 |
So, keep visiting BestAUBettingSites.com for more rugby betting news!