Rugby World Cup Quarter-Final Predictions & Odds
Quarter-final matches are coming up, so what do the experts say about the final eight? We've compiled and compared the latest odds and justifications for AU bettors. After all, informed bets usually win and we like to see bettors make money on Rugby. So, let's take a look at the latest odds for the Rugby World Cup Quarter-Final fixtures.
Of course, these are just speculations and its fairly likely that some wild cards could take the win. However, we're working off of statistics for this World Cup, such as the final score averages for each side. In addition, we've looked at their win rates and their performance as a team to make things fair. In essence, we're being really thorough to ensure that this is an accurate prediction.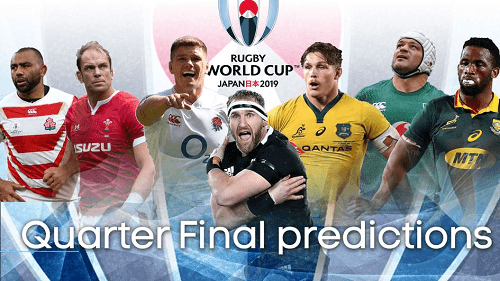 Quarter-Final 1 – England v Australia
Winner Prediction: England
Optimistic Winner Prediction: Australia
When: Saturday October 19
Where: Oita Stadium, Oita Prefecture
Recommended bet: Australia 3.8 to win and England 1.36 to win.
Experts are gunning for an English win, and we can't blame them. While the Roses are sitting on no losses, Australia has one against Wales. However, some experts believe that Australia haven't played their full hand yet and we hope it's true. We want the Wallabies to get to the final and many Aussies will agree. So, our money is on the Australian side.
2. New Zealand v Ireland
Winner Prediction: New Zealand
When: Saturday October 19
Where: Oita Stadium, Tokyo Stadium, Tokyo
Recommended bet: Ireland 5.5 to win and New Zealand 1.22 to win.
For the past three World Cups, the All Blacks have dominated their competition and given no quarter. Still, they probably weren't expecting to face Ireland and they might just fumble as a result.Of course, this is a little bit of wishful thinking, but we're hoping for the hell of it. If you're not convinced that the Kiwis will be rattled, the Irish beat them in November 2018. And yet, we know that New Zealand loves to show off in the final matches.
3. Wales v France
Winner Prediction
: Wales
When: Sunday October 20
Where: Oita Stadium, Oita Prefecture
Recommended bet: France 3.75 to win and Wales 1.43 to win.
Wales is one of the tier 1 teams expected to win their quarter-final match on principal. When combined with France's dismal performance up until this point, they can definitely make it to the semis. Still, they have a play style Wales will dread because they are unpredictable. The Welsh love a clean game with clear lines, and the French just don't play into it. We're expecting a win for Wales, but at a high cost.
4. Japan v South Africa Quarter-Final
Winner Prediction: South Africa
When: Sunday October 20
Where: Oita Stadium, Tokyo Stadium, Tokyo
Recommended bet: Japan 7.00 to win and South Africa 1.18 to win.
Any South African will probably celebrate a match between the Springboks and Brave Blossoms, but it's a toss-up. On one hand, South Africa are considered second to New Zealand. On the other hand, they have performance issues and fumble dramatically under pressure. Meanwhile, the Brave Blossoms are having the time of their lives. To be honest, we don't expect the South African side to win easily, but that's just our opinion.
Transforming the Sport
Still speaking of Japan, many experts are calling Japan a new face of Rugby thanks to their recent wins. World Rugby Chairman, Bill Beaumont, went so far as to promise more Tier 1 fixtures for the Brave Blossoms. For those who don't know, the Tier 1 and Tier 2 concept of Rugby favours Southern Hemisphere teams. However, Japan is fast catapulting to a Tier 1 ranking.
World rankings in Rugby have been knocked after Japan rocketed to a higher standing after beating Scotland and jumping from #15 to #7 in the tournament.
Keep visiting BestAUBettingSites.com for more rugby news!