RWC Referee Jaco Peyper Apologises for Inappropriate Joking with Welsh Fans
World Cup referee, Jaco Peyper, has officially apologised for his inappropriate behaviour captured in a photograph. Following the Wales v France match, the match official was caught joking about an elbow-to-the-face penalty during the match. In an official statement from World Rugby, the referee claims that he "recognised that the picture was inappropriate". He also revealed that he was not considered for this weekend's semi-final matches.
Jaco Peyper was in charge of the dramatic quarter-final between Wales and France. While he showed no hang-ups in giving French lock Sebastien Vahaamahina a red card, he did joke about it. During an attacking maul, Vahaamahina had hit Welsh player Aaron Wainwright square on the jaw. Vahaamahina was the sent off, leaving France with only 14 players. Despite the French lead at this time of 10-19, the game slowly turned for Wales.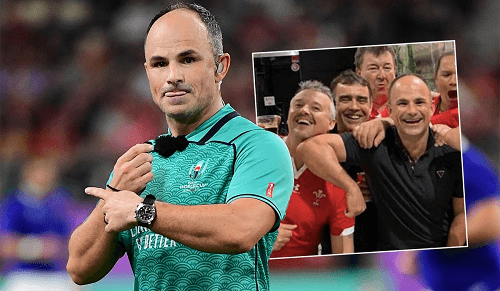 Jaco Peyper One of Many Gaffes
During the short month of this year's Rugby World Cup, World Rugby has had to put out some dramatic fires. From bad referee calls to player misbehaviour, they have struggled to keep above the scandals. Jaco Peyper is just one of many match officials to be criticised until this point, and he won't be the last. After all, we still have four matches to go.
While French fans are now furious, other countries have also been infuriated by World Rugby. Following a match won by Georgia, the tournament organisers played a Russian song for the victory. Many players and coaches lambasted the organisers for this lapse in judgement. And then, there was the destruction of a bar in Japan by Uruguay players.
Wales Coach Unconcerned
When the photo of Peyper was released on social media, Warren Gatland of the Welsh coaching team, wasn't concerned. He claims that the picture was a joke and how it was interpreted is up to others. He also claimed that "people like to make mountains out of molehills". The Welsh coach seems to be more focused on the upcoming match against South Africa.
As things stand Jaco Peyper has apologised and been punished appropriately. Hopefully, World Rugby has a few referees left who won't cause any more scandals. We'll be covering the matches this weekend. So, be sure to keep visiting BestAUBettingSites.com for updates!