South Africa v Canada Final Score & Recap
South Africa v Canada starts off another week of the Rugby World Cup with a shocking final score: 66-7. For those fans hoping that Canada could turn things around, it was sadly not during this match. South Africa has successfully qualified for the quarter-finals while the Canadians qualified for a flight home. Canada's Josh Larsen earned a red card at the end of the first half.
Thus, the Canadians had only 14 players to face the Springboks for the rest of the match. However, they were "far less ruthless" in the second half according to Sky Sports. For most of the first half, the Boks dominated the score with seven tries and six conversions. Then the Canadians made a valiant attempt in the second half with a try and conversion. Still, South Africa quickly earned three more tries and two conversions before full time.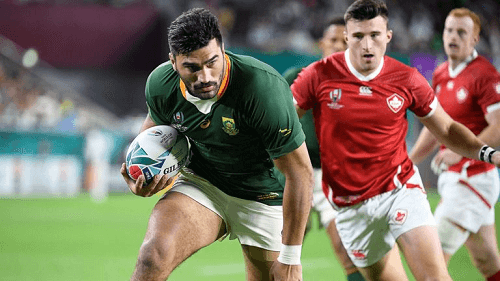 South Africa v Canada Highlights
While the Canadians looked tired for most of the match, they tried their best to keep up. With only 14 players, their defence was admirable. Unfortunately, the SA side was running circles around them and made things interesting for viewers. Of course, the Canadians did put up a better fight than in their match with New Zealand. So, they can at least claim some points for this World Cup.
Canadian Team Captain Tyler Ardron went so far as to say that his team just couldn't get their hands on the ball for the first thirty minutes after the match. In the match highlights below, this is pretty evident. However, they did make a few good attempts, but South Africa never fumbled. Thus, South Africa secured their #1 spot in the Pool B standings, and their ticket to the quarter-finals. Hopefully Canada can go home and practice for the next World Cup in peace.
Match Recap Videos

Keep visiting BestAUBettingSites.com for more exciting rugby betting news!