Wales v Fiji Final Score Recap & Odds
Wales v Fiji always promised to be an exciting match for Rugby fans, and it didn't disappoint. While Wales scraped through with a 29-17 victory and a bonus point, the results were still up in the air for most of the match. Unfortunately, Fiji has been eliminated from the tournament, but there are great expectations for them in the next World Cup.
As a possible winner for this year's title, Wales had plenty to prove against Fiji. By full-time, both teams appeared exhausted, but happy. Fiji was definitely not giving up easily, and Fijian winger Semi Radradra was named player of the match. With only three tries from the Fijians, the score was fairly predictable in this nail-biting fixture.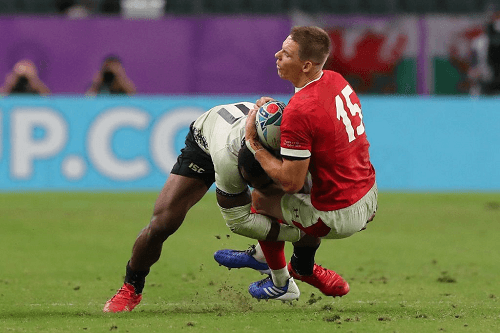 Wales v Fiji Highlights
Overall, Wales put their best foot forward by scoring four tries, a penalty and three conversions during the game. At full time, they earned a bonus point, which secured their place in the next round. Emotions were running high all round, but the game ended without further scandals. More so, match officials were quick to respond and it appears the refereeing is finally on a good standard.
Josh Adams scored a hat trick of tries, while his teammates took care of the defensive Fijian lines. Teamwork was a high priority, and no fumbles managed to sneak through.
Popular Bets for Wales
Of course, the overall standings put the Welsh team at the bottom of the odds, but they have a good chance for at least getting through to the semis. After that, it's anyone's game. Despite their good standings, we're still convinced that the Wallabies will beat them to the top of Pool D. After all, we're patriots over here and we like to win.
So, keep visiting BestAUBettingSites.com for the latest updates on the Rugby World Cup!
| | |
| --- | --- |
| Winning | Odds |
| Quarter Finals | 2.10 |
| Semi-Finals | 2.88 |
| Runner-Up | 6.5 |
| Group Stage | 8.50 |
| | |
| --- | --- |
| Finalists | Top Odds |
| South Africa v New Zealand | 3.75 |
| Wales v New Zealand | 8.00 |
| New Zealand v Ireland | 8.50 |
| England v South Africa | 9.00 |