Best Golf Betting Sites
Golf is one of the oldest sports in the world, as any country club buff will tell you. That's why there are so many ways to make money on golf. Whether it's an amateur tournament, or the PGA championship, the golf markets are a great betting option.
What's more, the best betting sites offer every bet imaginable to punters. So, we've decided to put together this guide to golf betting for beginners.
Most people know about golf courses and that 18 holes are played during a tournament. Matchplay will take a few days to accommodate players and factor in the weather. Depending on the tour and number of players, there's a lot to bet on.
So, if you'd like to skip to betting on a European Tour or PGA Tour event, we've listed the biggest online betting sites below.
Top Golf Betting Websites
Best Golf Bets & News
Golf Odds at Betting Sites
To bet on golf, you'll need to understand the wagers on offer. Most sportsbooks will give basic odds on who will win the tournament and by how much. When learning how to bet on golf, we recommend making smaller wagers on those options.
A lot of what makes sports wagering popular is how unpredictable it is. So, by making smaller wagers, you can actually get a feel for it without breaking the bank. Of course, that may seem a little boring, but large bets rarely pay off.
Championship Betting Markets
The calendar year is full of tournaments to bet on. However, there are some big ones to bet on.
We've listed the best golf championships for you below.
| | | |
| --- | --- | --- |
| Event | Tour | Date |
| The Masters | Major | April |
| USPGA Championship | Major | August |
| The British Open Championship | Major | July |
| US Open | Major | June |
| World Golf Championship | WGC | March |
| BMW PGA Championship | European | May |
| The Players Championship | PGA | May |
| DP World Tour Championship | European | November |
| Tour Championship | PGA | September |
| Ryder Cup | PGA vs European | September – every second year |
Best Golf Bets
Including basic bets, there are a lot of side bets for golf. The most popular options can be on anything from which player will win to what the nationality of the winning player will be. What's more, each match has opportunities for betting on who will have the lowest score in a ball group. Since most players will be grouped for certain holes, betting on low scores can be very profitable. But chances of winning a bet every time are low.
How to Bet & Win
It's time to make some money on golf betting. Follow these steps to get started:
Visit your favourite sportsbook.
Choose a player or players.
Select your bets and side wagers.
Confirm your bets.
Watch the match.
Collect your winnings.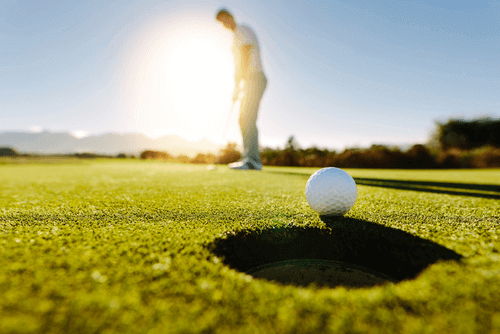 Best Golf Betting Tips
Last but not least, we have some slightly less fun tips. Always remember to gamble responsibly, and walk away from bad bets. We also recommend reading through all promotional terms and conditions carefully before claiming any bonus or free bets. Then, read through our other guides for extra tips and strategies if you need to.
More sports game betting guides: