Best eSports Betting Sites Online
In recent years, eSports have grown in popularity across the globe. Because of this, eSports betting is a growing industry, with unique bets and odds for you. Since the market is so new, many online betting sites have had to make their own odds calculators from scratch.
For this reason, we've decided to create a guide for eSports betting to explain them. To start off small, betting on eSports will probably be less saturated than other markets. After all, the industry is still growing and regulation is fairly limited to the game developer.
Bets are usually dependent on the game being played and how well the bookmaker understands it. Thus, bookies will offer odds on outright winners and score totals. If you'd prefer to skip this step, we've also listed the best Internet gambling services who cover eSports below.
Best eSports Betting Offers
Latest eSports Betting News
What is eSports betting?
Simply put, electronic sports (eSports) betting is a new type of online sports gambling for tournaments played by professional gamers. The best online video games in the world all have their own tournaments and events throughout the year. It may seem a little strange to punters, but the players train about as much as other athletes. What's more, they play tournaments a lot like other professional sports. There are regional eSports events, continental matches and world championships.
Top eSports Tournaments to Bet On
Most eSports tournaments are played on games that have multiple player game modes. These games allow teams of five or so to go up against each other and try to win. Depending on the game, solo players can also go head-to-head in eSports matches. Any major event can be bet on for real money. So get ready to pick a pro league and start betting on eSports.
First Person Shooter Games
CSGO – Counter Strike Global Offensive (CSGO) is one of the oldest games with a tournament. This is a shooter style game where five players on each team play either terrorists or police trying to stop them.
Call of Duty – the Call of Duty series is based on a first-person format on consoles. At most major events, unknown teams go up against pro teams for the prize pool.
PUBG – Player Unknown's Battle Grounds is a recently popularise first-person game based on the 'battle royale' format. Hundreds of players go head-to-head in arenas to win the 'chicken dinner'.
Fortnite – like PUBG, this game is centred on the 'battle royale' format for tournaments. The twist is that players have to build forts to survive and claim resources.
Overwatch League – in this game, players fight in an arena with a variety of characters that have special abilities. The team with the most round wins gets the prize.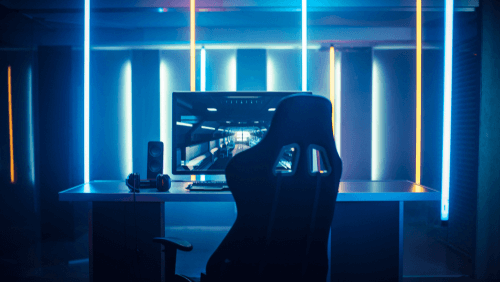 Multi-Player Battle Arena & Strategy Games
Dota 2 – this fantasy game is also played by five players, who compete to get into the other team's base while fighting off other obstacles. Dota 2 features a variety of characters that have unique powers and abilities to make things interesting.
League of Legends – based on the five-player format, League of Legends (LoL) also has a lot of characters with specialised abilities. However, each team must have a character from a specific class to play and form a strategy around that.
StarCraft II – this battle arena game is similar to LOL and Dota, but differs in the game format. Players choose from three classes to start building armies and bases.
Sports Simulators
FIFA Series – based on the tournament of the same name, this video game is played on consoles like PS4, Xbox, etc. The FIFA games usually stay the same on formats and controls, but new characters based on real players are added every year.
Madden NFL – this game features actual American football players and is played on consoles by pro gamers.
Rocket League – when compared to other pro eSports games, Rocket League seems a little silly. This game is played like soccer, but with cars on a console.
How to Bet on eSports
Now that you know what the games are like, it's time to start betting. When choosing a sports betting site, always check that it is fully licensed and regulated. You can't take the chance on illegal online gambling sites, since they can't be held accountable. We recommend trying bookies like Betway, William Hill or BetEasy for safety reasons. After that, follow these steps:
Create and verify your account
Make your first deposit
Claim your sign up bonus or free bets
Go to the eSports category
Pick one of the major tournaments
Place your bets and check the odds
Track the match and performance
Claim your winnings
eSports Betting Market Tips
Before placing a bet, we recommend reading through the tips below for punters. Some may seem unnecessary, but we have to mention them. So, take a gander:
Avoid match-fixing and insider information when placing bets. Having this type of information is illegal and will result in fines or jail time.
Gamble responsibly by using up to 10% of your bankroll for a tournament. Never bet your entire budget, because this is the most unpredictable sport.
Check all promotional terms and conditions before claiming a bonus. These will tell you how much deposit, what the withdrawal limits are, and how to turn over your bonus.
Try learning some of the most popular slang in the eSports industry. We've created a handy terminology guide to get you started.
Try to avoid betting on every match in a tournament. This will usually not work out well in the long run.
More Sports to Bet On