Formula 1 Return – First Possible Races on 5 July at Red Bull Ring
Racing fans might be able to tune in and watch the Formula 1 return on 5 July after Austria's government approved the idea. After weeks of discussions about health and safety protocols, the FIA, Red Bull Ring Officials, and local authorities are willing to move forward with a back-to-back set of races.
Reportedly the FIA "presented a complete and professional plan" to stop the spread of COVID19 to health authorities that was approved. However, it's not out of the woods yet, as other fixtures are still being discussed. To date, the Dutch, French, and Monaco events won't take place. Also, the Canadian fixture has been postponed, along with many earlier races.
Still, further races seem to have the green light for now, including the British and Hungarian Grand Prix.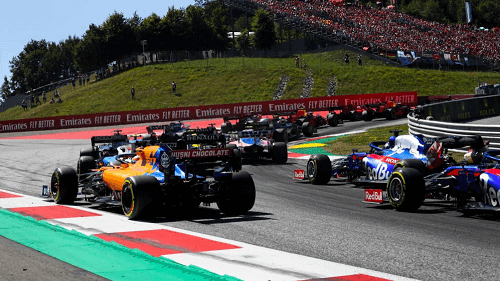 Logistical Challenges for Formula 1 Return
With a month to get things ready, the first challenge will be testing teams and drivers for the novel coronavirus. Then, keeping the "biosphere" of the race contained by banning spectators and controlling the "racing environment" around it.
Luckily, the Spielberg track is close to a local airport, which allows chartered flights to come in and stay contained. More so, the racetrack is far from metropolises and has "great infrastructure" around it. Thus, the second race appealed to officials and will become a first in F1 history as the same location will be used twice in a season.
Another challenge is catering to the teams and housing to prevent the possible spread of the disease. But, these plans aren't solidified yet because there are still hurdles to get the go-ahead.
Rumoured Changes to the Season
Rumours are circulating on the possibility of further races, but Formula 1 hasn't confirmed any more returns. Of course, this will change in the coming weeks. Some theories include a lineup like this:
5 July – Austria
12 July – Austria
19 July – Hungary
2 August – Britain
9 August – Britain
16 August – Spain
30 August – Belgium
6 September – Italy
With one insider hinting at a goal of 15 to 18 races this year, the rumour is possible. Still, the Formula 1 return is only in talks for the moment. However, it has received a green light from the UK government for the Silverstone race.
Latest News
So, keep visiting our site for updates on this story and other news!