Best Mobile Betting Sites & Apps
Betting on mobile is just one of many ways to gamble in 2020. Almost every sportsbook supports mobile gambling from Android, iPhone, Windows or Blackberry devices. This versatility also extends to the betting options, payment methods, and bonuses.
To bet and win, all you need is a mobile device and an internet connection. We also recommend keeping your favourite payment method open on your phone for quick access. That way, you can take advantage of exclusive bonuses wherever you are.
When betting on mobile, it's important to find a sportsbook that has a usable site or app. For most iPhone users, apps are generally more useful. On the other hand, most Android users can just open their browser.
To make things easier, we expect sportsbooks to offer both options. Luckily, our top reviewed bookies have gone out of their way to give punters the best experience on any device. We've listed the best mobile-friendly websites below for bettors.
Best Mobile Sports Betting Sites
How to Pick a Mobile Sportsbook
If you're unsure about how to pick the right mobile betting site, our reviewers have put together their process below. Just follow our mobile betting tips to find the best bookmaker for your needs. In case you're sceptical, test our tips personally on other betting sites to be sure. After all, it's your money on the line.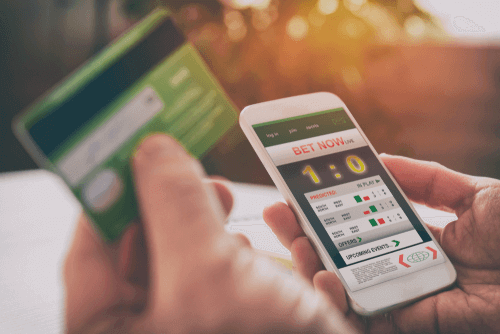 Secure Mobile Site & App
While bonuses and free bets are great, there's no point if you aren't protected. We usually check for encryption on mobile sites, but apps are generally hard-coded to be safe. If you aren't confident in the security offered, check reviews on the app store for real-time insight. App stores have strict rules for the quality of the product, so Android and iOS apps should be good.
On mobile browsers, check the search bar by scrolling up and looking for a check mark. If it's present on your browser, you're secure. For added safety, use your device password sparingly and try double-protection payment options like eWallets and prepaid cards.
Betting Options
Even if a site passes our first two tests, the biggest factor is the variety of betting markets. Any site we recommend should have the same mobile bets available as the desktop site. Limiting anything is a sure-fire way to tick off our betting experts and earn a bad review. If you'd like to personally try this, go into multiple sports and check the bets & odds.
We expect to see these top sports at least:
Each sport needs to have complete odds and bets available. Covered spreads and offered odds should also have correct scores for the match. Placing a bet should also be easy from start to finish.
Mobile-Friendly Betting
All bets should be easy to make on a mobile device. This means multiple bets from props to money lines. More so, we want punters to be able to find these options quickly and easily. The site needs to have easy navigation and good spacing to preserve our scrolling fingers.
After all, no one wants to spend 30 minutes trying to read online betting predictions. Most of us have full-time jobs for crying out loud.
Payouts & Payments
After figuring all of that out, you'll probably want to get to the actual wagering, right? So, how will an online sportsbook make things easier? Well, we believe that mobile betting sites should have exactly the same payment options on hand for punters.
Everything should be just as fast and easy-to-use. Additionally, cashing out your winnings should be possible from your phone. Cashing in on sports betting tips is essentially all about timing, so your sportsbook needs to deliver.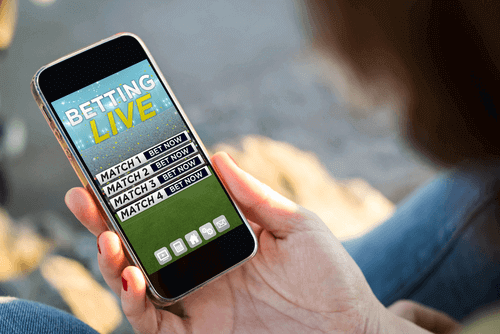 How to bet on Mobile
Once you've verified the mobile sportsbook, you'll want to place a bet. Follow these steps for placing a bet on mobile to get started:
Choose a sportsbook
Pick a sport to bet on
Decide on your team and players for side bets
Check the odds and place your wagers
Double-check your wagers and pay
Keep track of the odds leading up to the match
Cash in your wins
More betting guides
Mobile Betting FAQs
Does it matter what phone or tablet I own?
Generally, no, but anything older than five years could struggle with newer apps. Keep in mind that you might also need to keep your browser and betting app updated.
Is it safe to bet from a mobile phone or tablet app?
Yes, as long as you're sure that the app is encrypted. Choose apps from your supported app store for the safest experience.
I'm new to betting on mobile sports betting sites, where do I start?
Well, that depends on what you're looking for. If you want the best speed, try the William Hill app. If you want the best odds, BetEasy and Ladbrokes are a good option. Mr Green has the best promotions, while Unibet has all of these and more.
Are mobile betting sites safe?
Yes, if you're using a trustworthy online bookmaker with an equally secure desktop site. The safest online betting site needs to be exactly the same as the normal one. Check both on separate devices if you're unsure.
How can I move money onto and off of mobile betting sites?
Every one of our recommended bookies has dedicated banking facilities for any device. For extra safety, try banking options with separate apps so you can double-check your transactions.
Is mobile betting legal?
Yes, as long as you use a licensed sportsbook. Overseas mobile sports betting sites might not take wagers after law changes in 2018.