Best Rugby Betting Websites
Rugby betting is one of the most popular ways to gamble. Mainly because there's so much action all year round to bet on. So, to get the best match odds and sports betting tips, read our guide on rugby bets below.
Here we'll explore the bare bones of rugby betting, to get bettors on track for more complicated gambling options.  Of course, that's not to say that betting on the sport is difficult, there are just a lot of factors at play.
Before we begin, we'd like to note that there is no set way to bet and you can develop a personal strategy for gambling. As rugby is such a diverse sport with multiple formats, having a fluid system to cater to all of them is beneficial.
However, no strategy can guarantee wins and it's illegal to use insider information. So, if you'd prefer to skip all of that, we've listed our top online betting sites for rugby championship games and regular seasons.
Popular Online Rugby Betting Sites
Latest Rugby Betting News
Top Bets for Rugby
Knowing the most important betting events in rugby is a good way to bet smart. It may seem a little obvious, but learning the differences between rugby league games can boost your winning chances. So, we've made a basic breakdown of the two codes for rugby games.
Rugby Union Betting
These games are played with a team of 15, with no maximum limit on tackles. If the ball goes out of play, players must make a line out. Line outs are when the whole team lines up and tries to catch the ball thrown by the player who didn't knock out the ball.
More so, scrums and mauls are more regular in Rugby Union games. As a result, this code is considered more strategic. Conversely, the best betting events include:
Six Nations
Lions Tour
Rugby World Cup
Guinness Pro 12
Rugby League
Rugby league games are played by teams of 13 players with a smaller ball. Since the ball is smaller, it's less likely to bounce predictably and be kicked further. League matches also have a six tackle limit. After the limit is exceeded, the ball has to be given to the other side. If the ball falls out of play, a tap and go is performed (a mini kick).
Popular events for league games include:
Super League
National Rugby League (NRL)
The Challenge Cup
Super Sevens Tournaments
Both codes of the game have Sevens games, where each team field seven players. These games are played for two halves lasting seven minutes each. More so, this format can be bet on at popular sportsbooks because it's so fast-paced.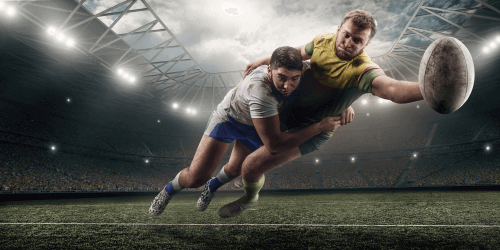 Rugby Union Betting Tips
When it comes to betting on rugby, there are a few important things to remember. Our expert reviewers know a thing or two about rugby and how to turn a profit, so they've put together some tips.
Smart Rugby Bets
While it might seem harmless, we need to mention that punters have to gamble responsibly. If you're having a bad run or just wagering too high, it's better to walk away. Even if you feel lucky, the odds aren't always in your favour.
Try to bet less and pick the right markets for match bets. After all, it's better to bet only 10% of your bankroll and recoup your losses later than to lose it all on a single bet.
Choosing Rugby Betting Markets
One of the best ways to make money betting on rugby is to know the markets. We recommend becoming familiar with handicap betting, a winning margin market and general bets first. Knowing these will help you bet smarter because research is key for gambling.
So, it may seem like a waste of time, but this could earn you a lot of money. On the other hand, most punters will likely choose one type because it's easier to follow in the beginning.
Following Betting Site Terms and Conditions
All bookmakers have specific conditions for how punters can bet online or at their shops. To ensure that you are treated fairly and receive your payout, you'll need to become familiar with the terms and conditions.
While it might seem like a lot of time and effort, following the rules can help you win fairly. Moreover, we recommend checking the terms for the promotions extra carefully to every bettor.
Rugby Betting Markets
Whether you're betting on union or league matches, you'll always be offered the following betting lines. Sportsbooks might also offer odds on players and teams separately, so keep an eye out.
Following that, check out these tops bets for events like the World Cups and others:
Moneyline – typically, this is made on the team to win the match. Depending on the betting site, these odds are represented in fractions or decimals.
Handicap – when you're comfortable with moneyline, try out the handicaps. Normally, bookies offer an advantage to one team to balance out the odds. While the team with a negative value will have to win by more than the state total to turn a profit for punters, the positive-valued team will need to win by less than their handicap.
Total Points – betting on the combined scores is referred to a total bet. Sportsbooks will determine the total points figure so punters can bet on an amount over or under the total.
More Sports