Best Horse Racing Betting Sites
Betting on horse racing is easier than ever in Australia. In this horse race betting guide, we've put together every possible bet, event and site that offers takes bets. We'll walk you through how to bet on horses, when to bet and how to cash out your winnings.
Moreover, we've got some comprehensive guides just for real money online gambling on horses. These guides are meant to help AU bettors of any experience level to turn a profit and learn a little more about their betting markets.
However, we can't guarantee that any gambling advice from our experts will guarantee that every wager wins. In fact, we generally advise caution for all horse race bets to avoid losing too much cash. After all, we believe safe gambling is far more profitable at the tracks than winning. If you'd prefer to skip to the betting sites, we've listed the best online bookmakers below.
Where to Bet on Horse Races
Latest Horse Race Betting News
Best Betting Tips for Horse Racing
Before we get started with the many bets to make on horse racing, we have a few important tips. For most beginners, making bets and reading the odds can be confusing. So, we've got a few basic horse racing tips for you. Keep in mind that there's no definitive way to win by betting on horse races. In fact, it's notoriously difficult to predict winners in this sport.
Gamble responsibly by walking away from a bad bet.
Only bet 10% of your bankroll at any given time.
Stay away from illegal sites and unregulated bookies.
Keep track of all bets and race events.
Check horse racing results in real time.
Always research the thoroughbred horses and jockeys racing.
Choose bets carefully and don't bet on everything.
Read through all promotional terms and conditions for racing bonus bets.
How to Bet on Horse Racing
State the name of the racetrack.
Choose the number of the race you're betting on.
Pick the price of your bet.
Indicate the type of horse race bet.
Pick the amount of horses you're betting on.
Check your ticket before you accept.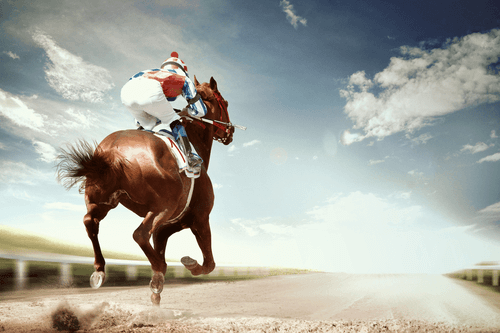 Bet Types for Horse Racing
Betting strategies always start with learning the best bets for horse races. We've outlined the most popular bets for punters below. The following are the most commonly offered by online bookmakers for Totalisator Agency Board (TAB) betting. When using a race betting strategy, we suggest trying these first.
Standard Betting Products
Win – this single bet is made on the overall winner for the race. However, odds for the favourite can be misleading, so ensure you've got all the facts beforehand.
Place – similar to betting on a winner, a place bet is based on where your horse will end up in the standings. For example, you'll bet on a horse placing third or fourth.
Each Way – this type of bet combines the win and place bets for a horse. Betting on the horse either winning or just placing is a better wager than outright outcomes.
Starting Price (SP) – starting prices aren't known to bettors, but all bookies have the average starting price before each race. The best price can pay out more, but this is subject to the bookmaker.
Best Odds – these bets guarantee that the starting price and official win lines are the same for gamblers.
Best Fluctuation Bets – fluc bets are available up to 30 minutes before the gate opens. These cover all possible runs in the races between multiple starting prices.
Fixed Odds – fixed odds are a set price that can't change during the race, but will determine the eventual payout.
Top Exotic Betting Lines
Australian racing fans can look forward to some exotic betting products at our top listed racebook sites.
Straight Quinella – this double bet allows punters to choose the first and second place winners. The order is not necessary, but both horses need to place in the top two for a payout.
Box Quinella, Exacta & Trifecta – using the first bet's requirements, punters will still need two of any of the runners to place first or second. Additionally, this bet will cost more to place.
Standout Quinella – using the first two options, bettors can choose a group to place first and a second group to place second.
Box Exacta – choosing multiple horses to win will result in a higher cost, but also a better chance at winning money for betting exactly who might win.
Straight Trifecta – Aussies can choose the 1st, 2nd and 3rd place winners in order with this bet.
Standout Trifecta – to win this bet, the top three finishers have to standout.
Flexi Trifecta – this bet can be fitted to a budget with flexible investments on 1st, 2nd or 3rd
First Four – like the trifecta, punters can pick the top four to win for a set amount, but they have to be in the exact order. Straight, box, standout and multi-options apply.
Big Six – this bet is considered a future one because punters have to guess six winners for six races.
Quadrella – similar to big six, Quadrella betting lines allows bettors to pick four winners for four races.
Race Classes & Types
Professional horse racing is divided into specific classes and tracks for each event. Classifications determine where horses race and how well they do. Most thoroughbreds start with maiden races and will run according to their weight. Winning these races, also called a maiden plate, can launch a horse's career and set their price for buyers.
If they win a maiden race, horses are then eligible for a wide variety of classes. Horses can be categorised by age, weight and gender for certain races. Added to this, races are basically classified by the track length, surface and difficulty. The top five racetracks and events in Australia include:
Flemington, Melbourne – major event: Melbourne Cup Carnival
Randwick, Sydney – major events: Queen Elizabeth Stakes, Doncaster Mile & the Championships
Rosehill, Melbourne – major event: Golden Slipper Day
Moonee Valley, Melbourne – major event: The Cox Plate
Ascot, Perth – major events: Perth Cup, Railway Stakes & the Summer Racing Carnival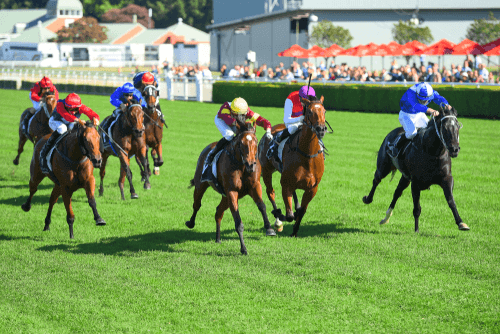 Horse Racing Bet FAQs
What is the best bet in horse racing?
The best bet for horse races is a spread bet. Choosing a couple of winners generally has higher chances of a payout. However, picking too many horses can also get pretty expensive for the average gambler. So, we recommend a small, spread bet for beginners.
Can you bet on horses online?
Yes, of course. Australian racing tracks all support online betting site wagers. What's more, if you bet online, you get more options.
How are horse racing odds set?
Like all sports betting lines, horse racing odds are accumulated and worked out over multiple outcomes. You will the total prize pool and amount bet on the horse for the calculation. To start, subtract the take from the total win pool (a percentage of the take). Then take off the amount bet on the horse. Finally, divide that amount by the stake on the horse for exact odds.
What is win and place in horse racing?
A win and place is a type of bet for punters. You bet on a horse either winning or placing in the event. The bet will only pay out if your horse wins or gets second place.
How do you bet at the horse races?
To bet at race tracks, you'll need a few details for your ticket. These are:
The race number you're betting on.
Price of your bet.
Indicate the type of horse race bet, e.g. win, place, exacta, trifecta, etc.
Number of horses you're betting on.
Always check your ticket before leaving the window.
How many horses do you need for each way?
Handicaps of more than 16 runners – 1/4 odds on first four.
Handicaps of 12-15 runners – 1/4 odds on top three.
More than 8 runners – 1/5 odds on top three.
Five to seven runners – 1/4 odds on top two.
Less than five runners – only a win gets paid out.
How do payouts work in horse racing?
Generally, your payout will be calculated based on the overall take for the race and the amount you bet with. To get the accurate payout, we suggest using a horse racing payout calculator.
What do the odds mean in horse racing?
Depending on the bookie, the odds will be show in a few ways. These are based on the outcome of the race and how many horses you bet on. To understand the basic odds, please see below:
Fractional odds – usually look like this: 4/1, 5/2, etc. the first number will be multiplied by your stake, and divided by the second.
Decimal odds – usually are represented as: 5.00, 0.25, 6.95, etc. these numbers will be multiplied by your bet and include the stake.
More sports game betting guides: