Rugby Australia's Folau Settlement Raises More Criticism Due to the Player's Many Remarks
The Folau settlement is officially signed and sealed with bizarre statements from both parties. Reportedly, the former rugby player's comments weren't meant to be discriminatory. However, many Australians fail to see how his comments weren't intended to offend LGBT communities and other affected parties. After all, he said they were going to hell and caused devastating bush fires.
While the legal dispute is sorted, there are many critics of his "lovingly shared" opinions. Since his first post and reason for being fired, the rugby player still won't stop saying inflammatory things. Despite public outcry, the Folau settlement probably won't win him any favours. In a joint statement, the two parties stated that Folau hadn't intended to "harm or offend any person" with his post. Further, they claimed that "Mr Folau wants all Australians to know that he does not condone discrimination".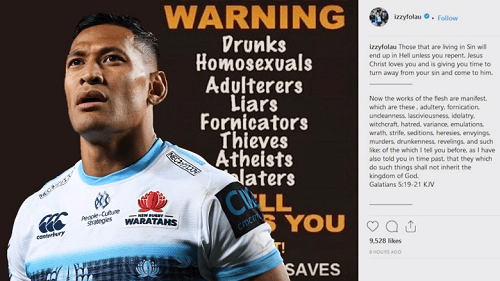 Folau Settlement Amount Left "Private"
In the court mandated mediation, starting on Monday, Folau and Rugby Australia spent hours debating. On Monday, they racked up 12 hours with no progress. By Wednesday afternoon, a court appearance seemed likely. Until the two sides announced the Folau settlement to the media. While no sum was mentioned, bets on anything short of his $14 million claim seem sound.
Still, Folau's apology and statements are baffling and nobody quite understands how his comments aren't prejudiced. In fact, many have rejected his apology and are demanding further punishment. This was after he started a GoFundMe page, and blamed natural events on controversial topics. Including same sex marriage, abortion, and "drunks".
Moving on For Rugby Australia
Now that the case is settled, Rugby Australia is keen to promote their views on being inclusive. So much so that Folau won't be returning to the sport. Which is lucky, since Rugby Australia is facing further criticism for the new Wallabies coach and other decisions. Unfortunately, there's no pleasing fans after 20 years of poor management.
So, hopefully, they can turn things around by the next World Cup. Keep visiting bestaubettingsites.com for more rugby news!