Alex Albon wins First Virtual GP Title by Overtaking Charles Leclerc
While the world stays at home, the F1 2019 Virtual GP is bringing racing fans a bit of excitement. In a stunning victory, Alex Albon beat Charles Leclerc to the Interlagos win. In the race, Stoffel Vandoorne tested the real-world mechanics of the game by spinning out from the pole position. This left a gap for Albon to speed into second to fight Leclerc.
With Leclerc and Albon benefitting from Vandoorne's "chaotic start," things heated up in the coming laps. Both drivers fought for the win out front, while the rest of the pack tried to keep up. Through the realism of the game, it's a fun time to see the usual stops, penalties, and crashes. So, what did you miss?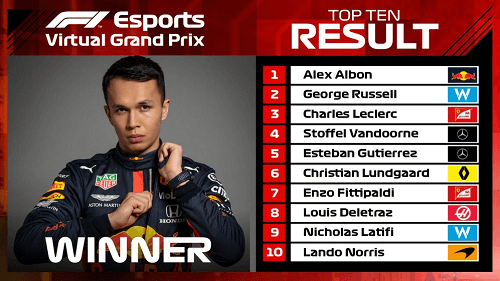 Virtual GP Battle on the Track
For the third race of the F1 Esports season, drivers like Albon, Vandoorne, and Leclerc are joined by other famous sports stars. In the back of the pack, cricket players Ben Stokes and Stuart Broad were trying to keep up, ultimately ending up in 14th and 17th, respectively. Meanwhile, World Rally champion Petter Solberg finished 12th.
In the greater scheme of things, it was reasonably realistic for an F1 event. Lando Norris got a few penalties that put him in 10th, starting with a jump start. Leclerc also earned a three-second penalty for a few track limit infractions, which bumped up Albon to the top of the rankings. Check out the full race below.
F2 Joins Virtual Racing Competition
If you're itching for a little more action, the F2 Virtual Racing events are also taking place. In the virtual Bahrain International Circuit event, Arthur Leclerc took the win. The younger Leclerc sibling is currently in the Ferrari Young Driver Academy and proving his worth in F2.
After winning the Feature Race, Sprint Race, pole position, and fastest lap, he nets the perfect score, you can watch the highlights here. With the addition of F2 races, racing fans can finally make a bit of cash on the side.
Next race:  Sunday, 10 May at 03:00AEST on the Circuit de Barcelona-Catalunya on F1's YouTube Channel.
Keep visiting our site for updates and other eSports News!
More News