Best eSports Games to Bet On
eSports games are the most popular gaming options in the world. Many of the current eSports titles are actually played professionally because of their quality and constant updates.
Think of these video games as different formats of football. Everybody knows about American football, European football (soccer) and Aussie rules football. Each has differing rules and formats, but they are slightly similar. Using this idea, eSports games can be divided generally by varying formats and styles.
So, when betting on eSports, you'll need to be familiar with the games and how they differ. For example, some have a team format while others can be played by individuals. It all depends on the creator and the play style of the game.
Furthermore, similar games will also differ based on their purpose. If that's getting too much, just skip ahead and visit our favourite professional eSports betting sites. Or, keep reading to find out the differences between video games and how they're played professionally.
Compare eSports Bookmakers
Top Video Games for eSports
When researching the eSports industry, you'll probably notice a lot more games than advertised. This is due to the rapid growth of the eSports scene and how many professional gamers are interested in the pro leagues. For the moment, there are a handful of developers who can support a tournament and run it effectively. We'll be focusing on their games until the others catch up.
To be clear, every game can be a potential eSports tournament, if they have enough sponsors. Increases in prize money and popularity will also lend a lot more credit to certain games. With that in mind, we're going to break down the most popular games down into five basic categories. As time goes on, there could be further divisions, but we'll stick to the basics.
Multiplayer Battle Arenas
One of the most popular formats for eSports games is the multiplayer online battle arenas (MOBAs). These games generally feature teams of three or more players in a set environment known as a map. Conversely, there are a few subcategories to consider.
First are the fantasy games that feature 'heroes' controlled by individual players. Heroes have unique characteristics and abilities which can be improved throughout the match until they reach a limit. Wins are measured in reaching goals like invading the enemy's home base. Games include League of Legends, Smite, Heroes of the Storm and Dota 2.
Second are the first-person perspective games that include first person shooters. These versions don't feature skills or abilities, but they also aim for objectives. Popular titles for tournaments include Call of Duty, Counter Strike: Global Offensive, Halo, Battlefield and Overwatch.
For these games, there are regional leagues and national tournaments that go up to World Championships. Professional matches are played on a Local Area Network (LAN) with identical computers and equipment to prevent cheating. Riot Games, the creators of League of Legends, are especially strict about competition regulations.
Single Player eSports Games
In this category, eSports games are usually also first-person shooters, but focus on a player versus player style like Quake and Doom. Some other popular styles are fighting variants like Street Fighter and Super Smash Bros. Depending on the fanbase and viewership, these tournaments can be very lucrative for betting because they have fewer variables to consider.
Real-Time Strategy Games
Moving away from the norm, we have strategy games that can also be single player match ups. In these matches, players have to use strategies to populate large mapswith armies. Game modes vary, but some matches can last hours. The most popular titles include StarCraft II, Warcraft, and StarCraft: Brood War.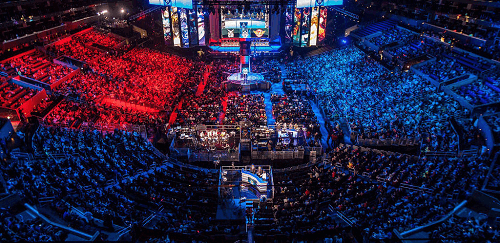 Sports-Based eSports
In this category, games are based on actual sports but played on PC or console. For the most part, they use the same rules as their real-life counterparts. However, there are a lot of variations for titles that are released yearly to coincide with real-life players and teams. Of course, this makes the games a bit more interesting, because they mimic real life. Here are our top picks for sports games:
FIFA – this Electronic Arts title features all of the real players of national soccer teams within the game. The main tournament here is the FIFA Interactive World Cup which is one of the most popular competitions in the world.
Madden – is a game based on the North American sport of football and even has a dedicated TV show in the United States.
NBA 2K – is a game based on basketball and follows similar tournaments to the real thing. This is a new league, so the jury is out on its popularity.
Pro Evolution Soccer – while similar to FIFA, this soccer game features teams from international tournaments, but not national sides.
Rocket League – this cartoonish game sees teams battle it out in European football matches using customisable motor vehicles.
Other eSports Games
Finally, the following titles featured as eSports games share similarities with the categories above. However, their gameplay is a little less definitive. For the most part, they are all multiplayer formats, but the objectives differ. Here are the most noteworthy miscellaneous games played as eSports fixtures.
Gears of War – is a third-person shooter with multiple updates. Here players meet the same objectives as with other shooter games, but in a third-person view.
War Thunder – in this game, players take part in World War II dog fights with accurate planes.
World of Tanks – similar to war thunder, players use accurate tanks on a battlefield or similar maps.
World of Warcarft – started as an adventure game, but added Player vs Player (PvP) features after its release.
How to Bet on eSports
Once you've researched the most popular games, you'll probably want to place a bet. So, here's our very basic map to betting on eSports.
Visit an eSports betting site.
Choose the league you want to bet on.
Decide on a tournament and match.
Pick a team or player and any side bets.
Confirm your selections and check your betting totals.
Watch the match and wait for your payout.
More eSports Gambling Tips